LAS VEGAS, NEVADA, OCTOBER 31, 2023 – While we might be squinting in the desert sun of Las Vegas, Fun-Haver Off-Road's all-new Ford Bronco Baja Runner is right at home. This Bronco was built ignoring all official rule books and is bound only by the fun Vaughn and Loren can dream up, from drifting to jumping and all the things that the desert can throw at it. Built in collaboration with Kibbetech to handle some of the most extreme desert fun on the planet the Fun-Haver Off-Road team has opted to name this lawless dream build, "El Bandito", a reference to the outlaws of yesteryear that would roam Mexico and the American Southwest.
Known as Bronco "55", this was an early marketing unit destined for the crusher but was brought back to life with an exterior that's undoubtedly off-road and bold. What's under the hood might offer a bit of a surprise, however. Powering this off-road menace is Ford Performance's crate supercharged 5.2L engine, the same featured in the famed GT500. Though off the lot you're looking at around 760hp in the GT500, the Fun-Haver Off-Road team pushed that number up to around 1,000 HP by way of a Whipple 3.8L supercharger for this one-of-a-kind Bronco.
"I am so pumped on El Bandito! Inspired by Ultra4 and Baja we set out to build our most crazy looking, capable, and Fun Bronco to date, and our team absolutely nailed it! One thousand horsepower, a handbrake and all the FOX controlled suspension travel is going to guarantee smiles for miles on the ground, and in the air, for Loren and me!" - Vaughn Gittin Jr.
Anyone who has ever faced desert terrains knows that power alone isn't enough to conquer the domain which is why "El Bandito" features the FOX controlled suspension setup dreams are made of. Utilizing the same suspension design by Triton Engineering that mirrors the Fun-Haver Off-Road team's Ultra4 Racing Broncos, 20-inch travel front and 26-inch rear. FOX 2.5 Coil Overs with 3.5/4" bypasses and 2.0 bumps help ensure a smooth ride in open desert while offering crawl capabilities when faced with rock challenges.
"We have been dreaming of this Bronco build for years, it's so awesome to see it come to life! To me this is the ultimate mashup representing my love of Ultra 4 and Baja and one of the most unique Broncos in existence. This is definitely my favorite Fun-Haver Bronco build!" - Loren Healy
If you're in Las Vegas for the annual SEMA Show, be sure to catch "El Bandito" in action smoking 42" Nitto Trail Grapplers multiple times a day at the Shell Performance Unbound Drift Experience alongside the RTR Vehicles' Drift Team located in the silver lot.
FHOR FORD BRONCO BAJA RUNNER
El Bandito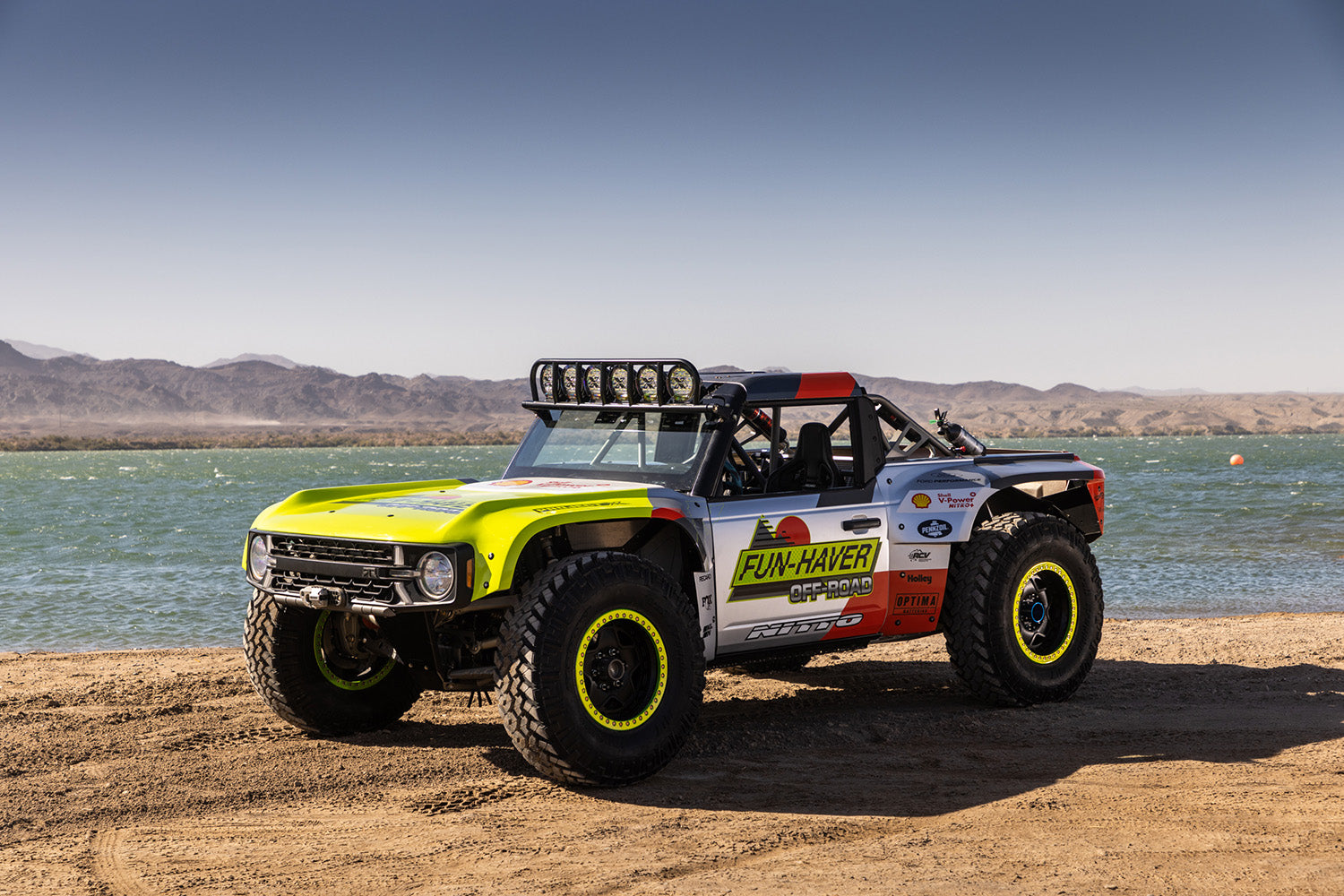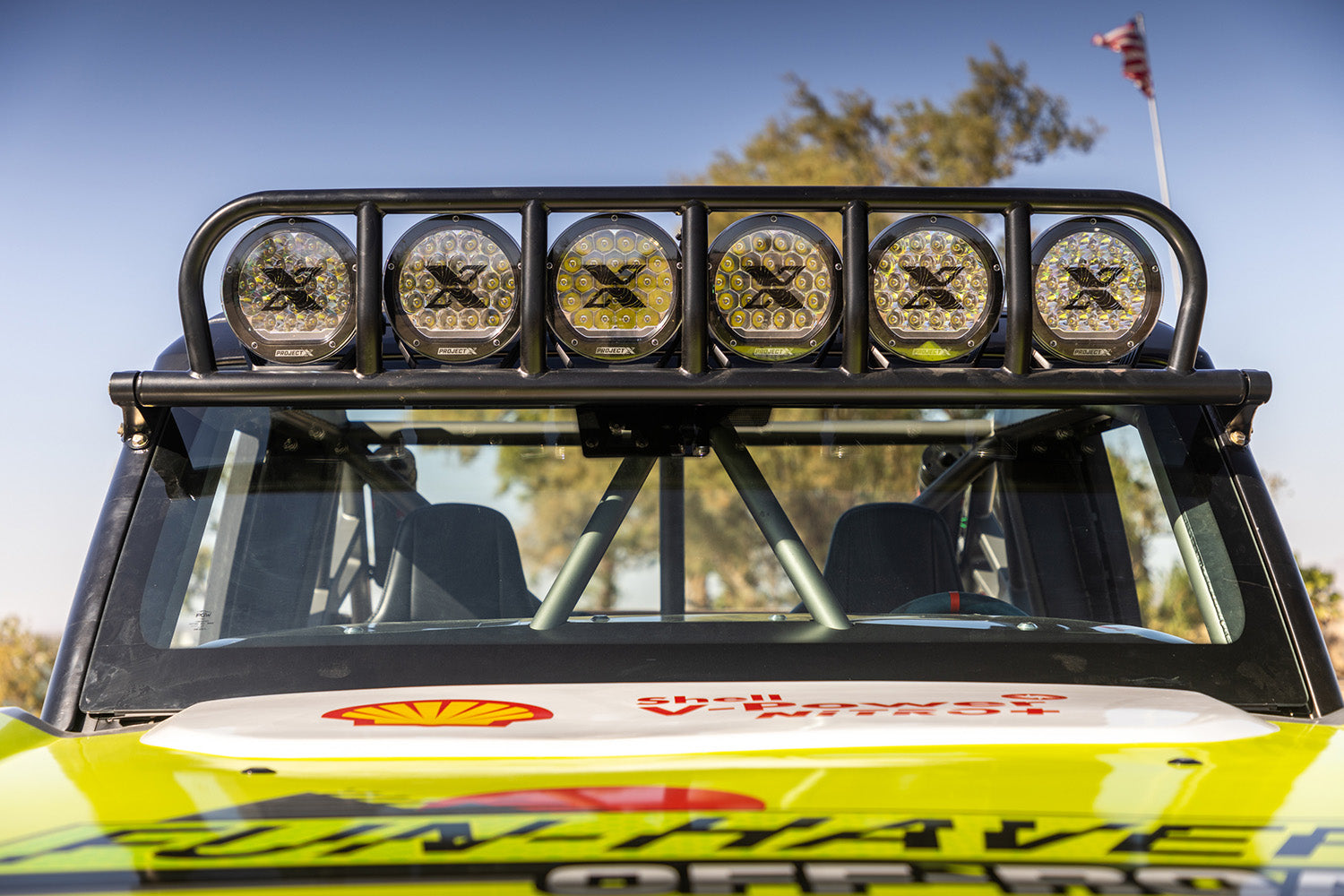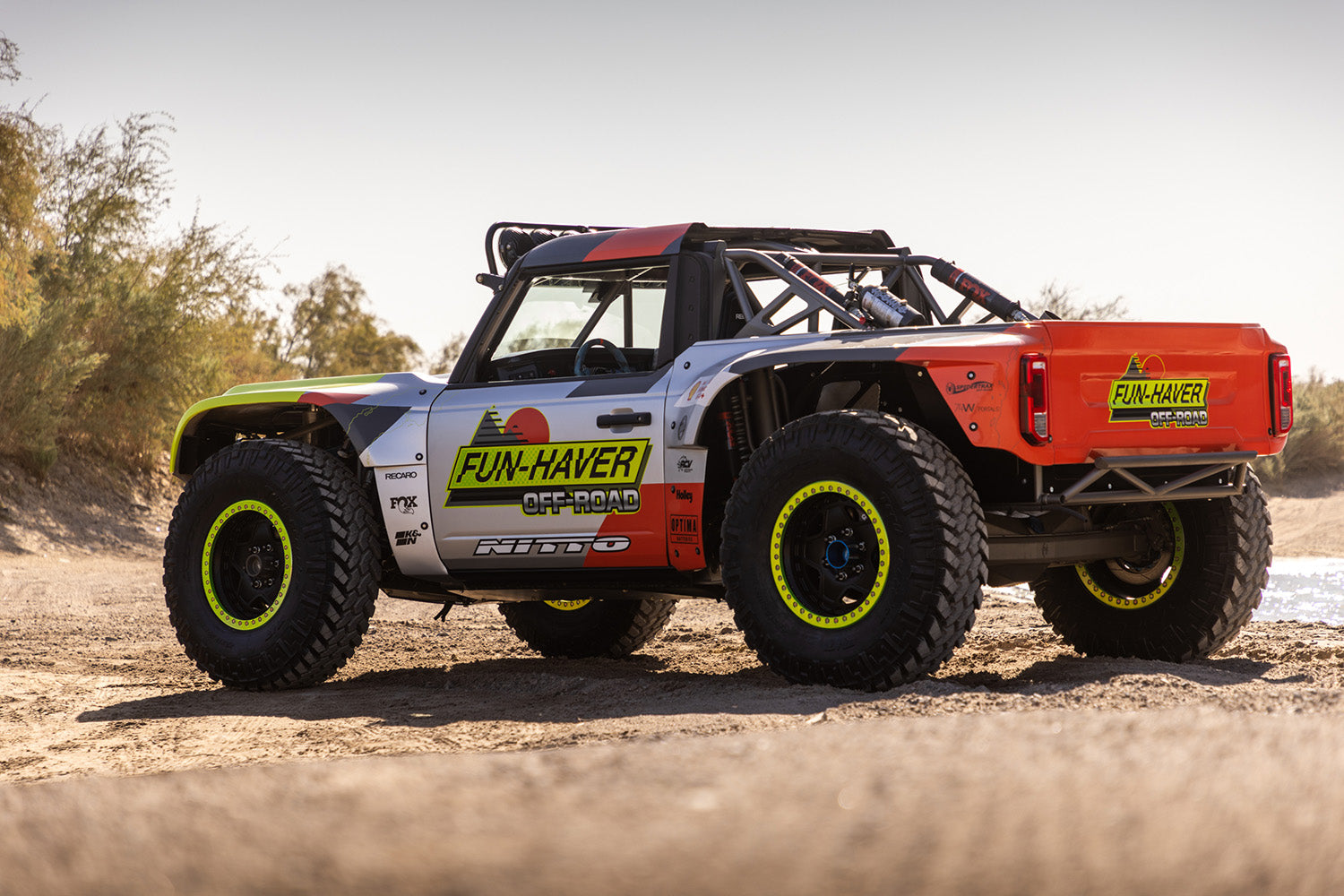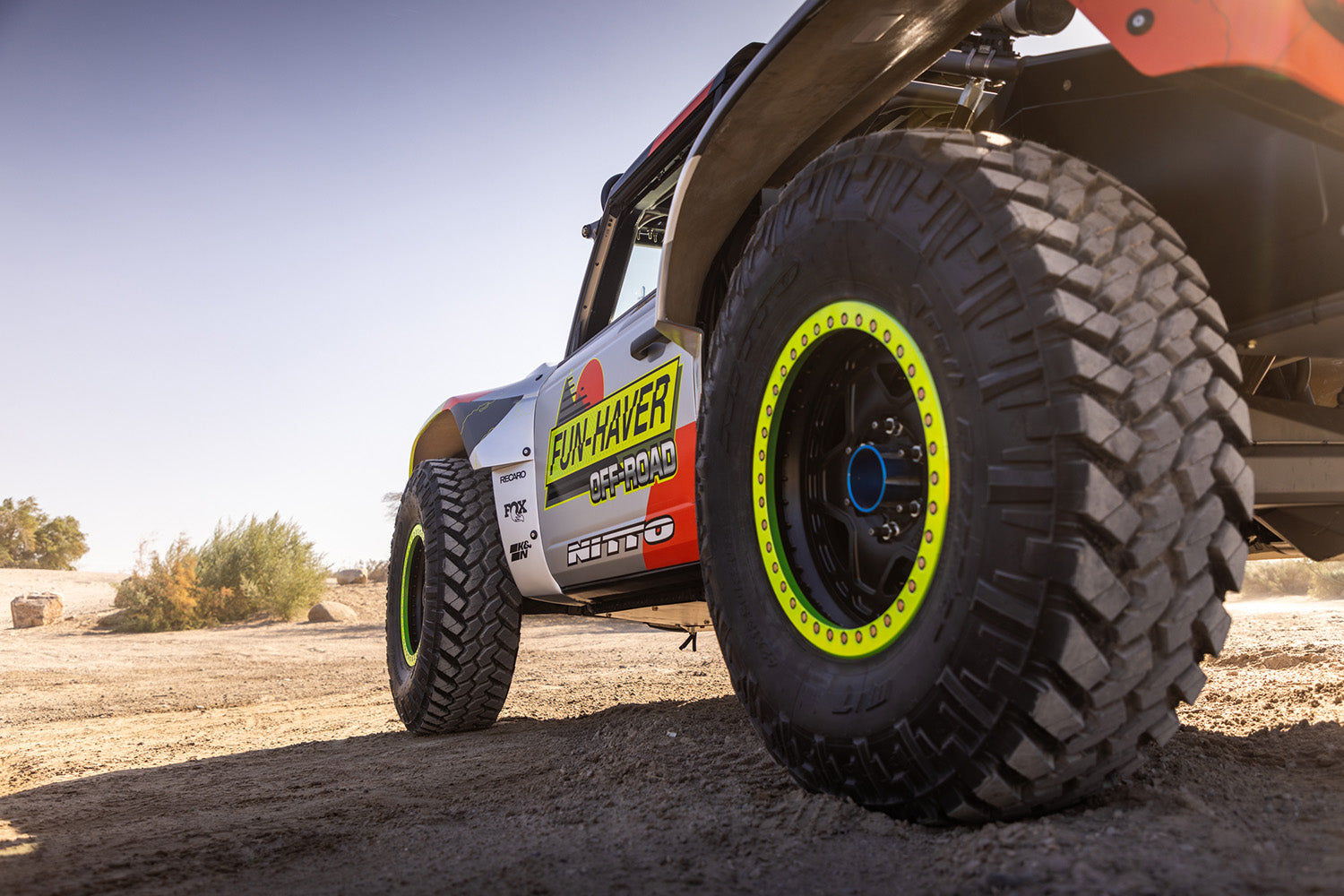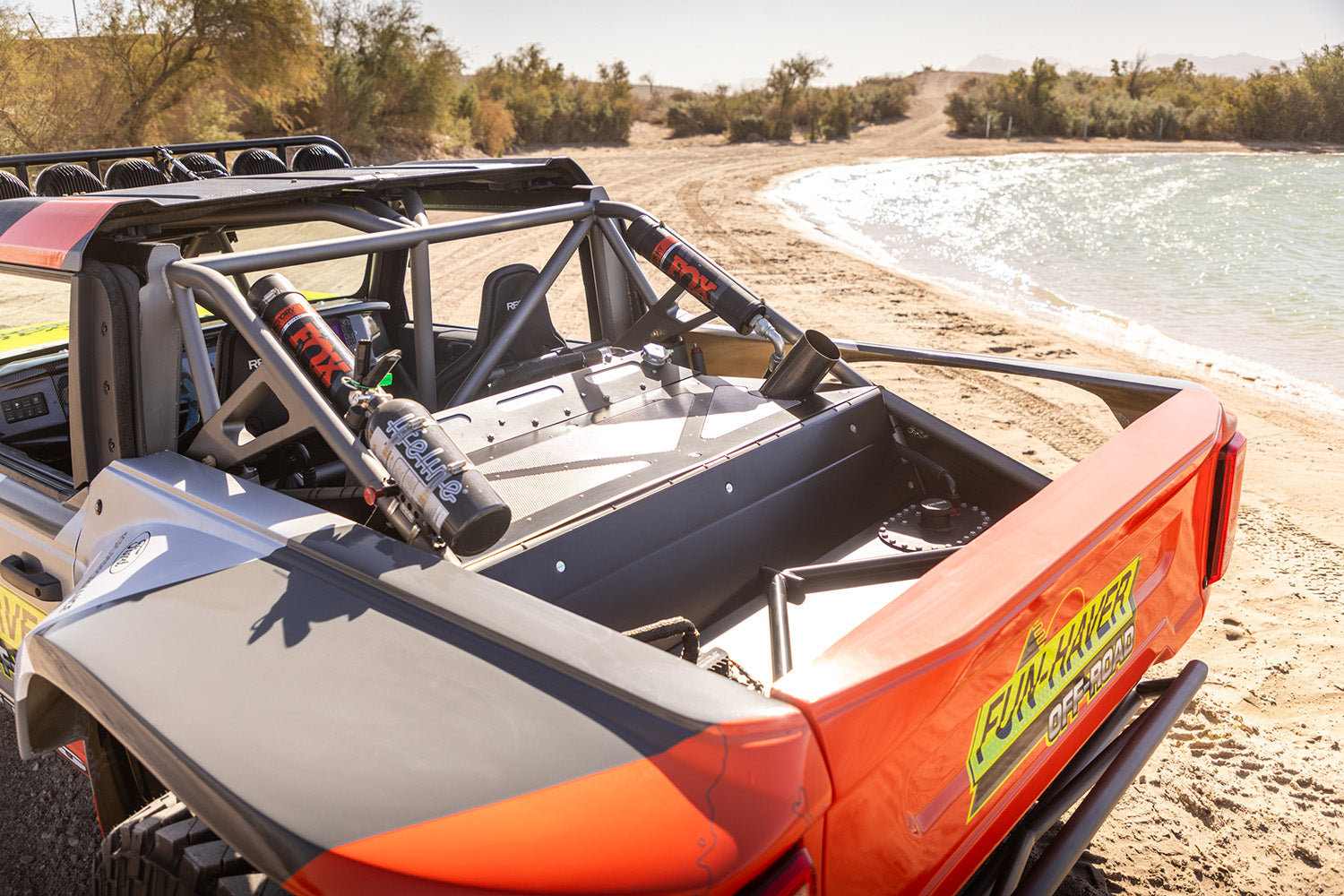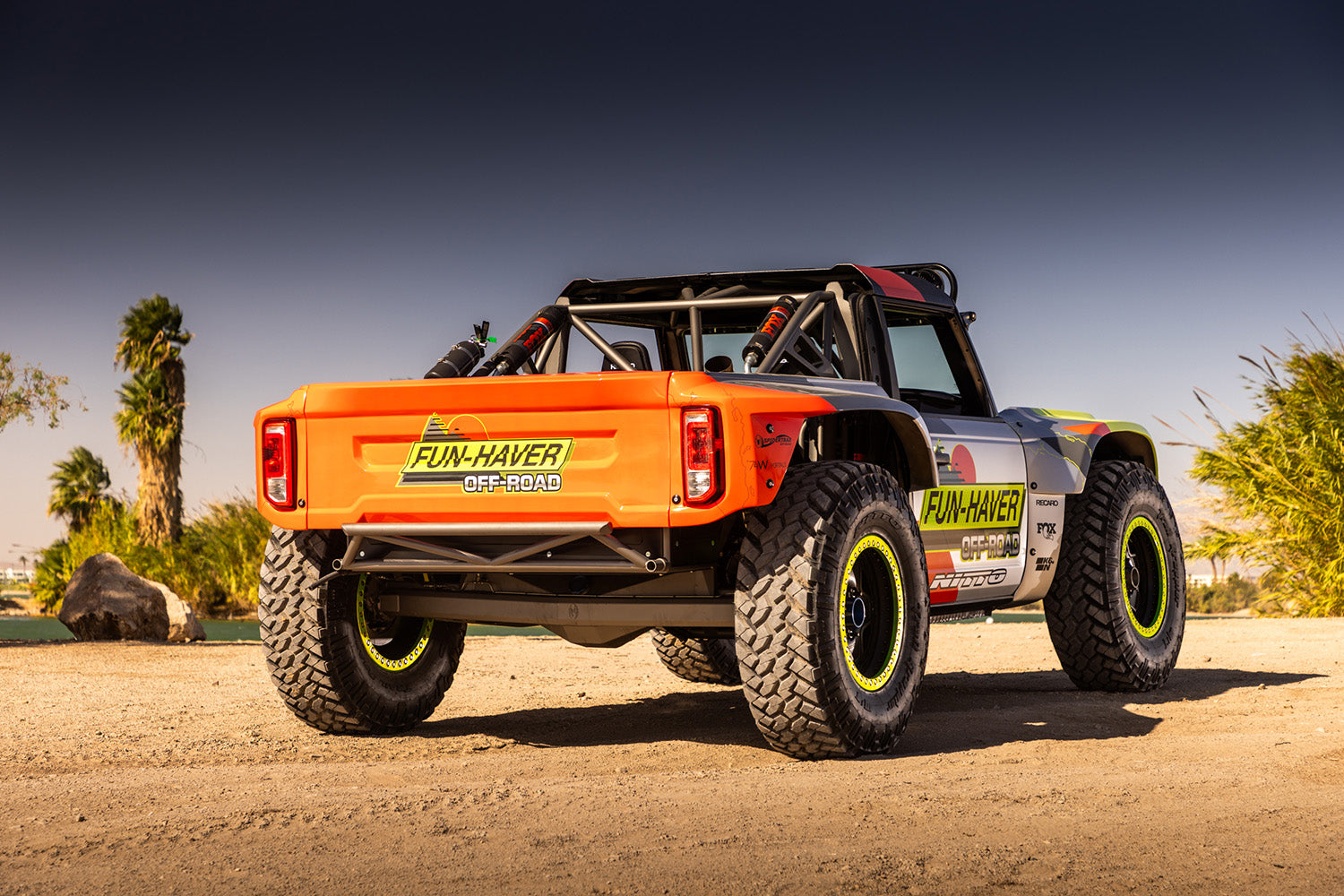 Base Vehicle
2023 Ford Bronco 2-Door
Ford Performance Crate Supercharged 5.2L
TH400 Transmission from Gearworks
Pennzoil Race Oil
ECU - Ford Performance
Race Pak Switch Panels and PDU's
Fuel Safe 40 Gallon Cell
Aeromotive A1000 fuel pumps
Powertrain
Atlas 2 Transfer Case
JE Reel Drive Shafts
Spidertrax 10" housings, brakes, hubs, axle shafts
74 welds race portals
front, swaybars
RCV performance CV's
Gearworks 10" third members with 40 spline ARBs
Custom exhaust built by Kibbetech and wrapped with Header Shield Inconel
CBR cooling package
Chassis
Suspension design by Triton Engineering (20" travel
front, 25" rear)
92" wide track width, 120" Wheelbase
Fox 2.5 Coil Overs, 3.5/4" bypasses and 2.0 bumps
Wildwood brakes
Power Steering Solutions steering
Wheels & Tires
Fun-Haver Off-Road 20" double bead locks
42" Nitto Trail Grapplers
Exterior
FHOR designed fiberglass and carbon fiber dash built by Fiberwerx
PROJECT X HP.70 light bar and FF.70 headlights
Warn 9.0 RC winch and factor 55 recovery equipment
Interior
Introducing El Bandito: 1,000 Horsepower Ford Bronco Baja Runner
1 minute